The 'little bit crazy' quality of research!
The 'little bit crazy' quality of research!
Life in the field is not for everyone.  There are certain luxuries that of course you miss; such as showers, clean laundry, dry clothes and your own bed.  When I try to explain how my job brings me out the field to incredibly remote locations to my friends and family, I usually get the same puzzled look.  I have been asked "Why would you want to leave the comfort of your own life, your routine, your friends, your family, etc. for 6 plus weeks at a time?"  I usually respond that to do the job I do, you need to be a little bit crazy.  You need to be an adventure seeker.  You need the desire to push yourself out of your comfort zone.  You need to be completely passionate about what you do.
I have spent the last month out at the Daneborg Research Facility.  This research facility is in the world's largest National Park, situated in North East Greenland.  During the time here, we have witnessed the seasonal transition from a cold, dry snow and ice surface to a melt pond covered, completely flooded ice surface in the fjord of Young Sund.  I have been collecting data analyzing how the surface albedo is changing during the melt progression, as well as measuring how the geophysical properties of the snow and ice change as temperatures continue to warm into summer.  The collection of the physical properties of the snow and ice are important for scientists studying the biology of the ice and surface water, the contaminants, scientists studying the C02 flux that is occurring between the ocean-sea ice-atmosphere interface, as well as scientists studying signatures from various remote sensing platforms to gain a better understanding of how the signatures respond to melt.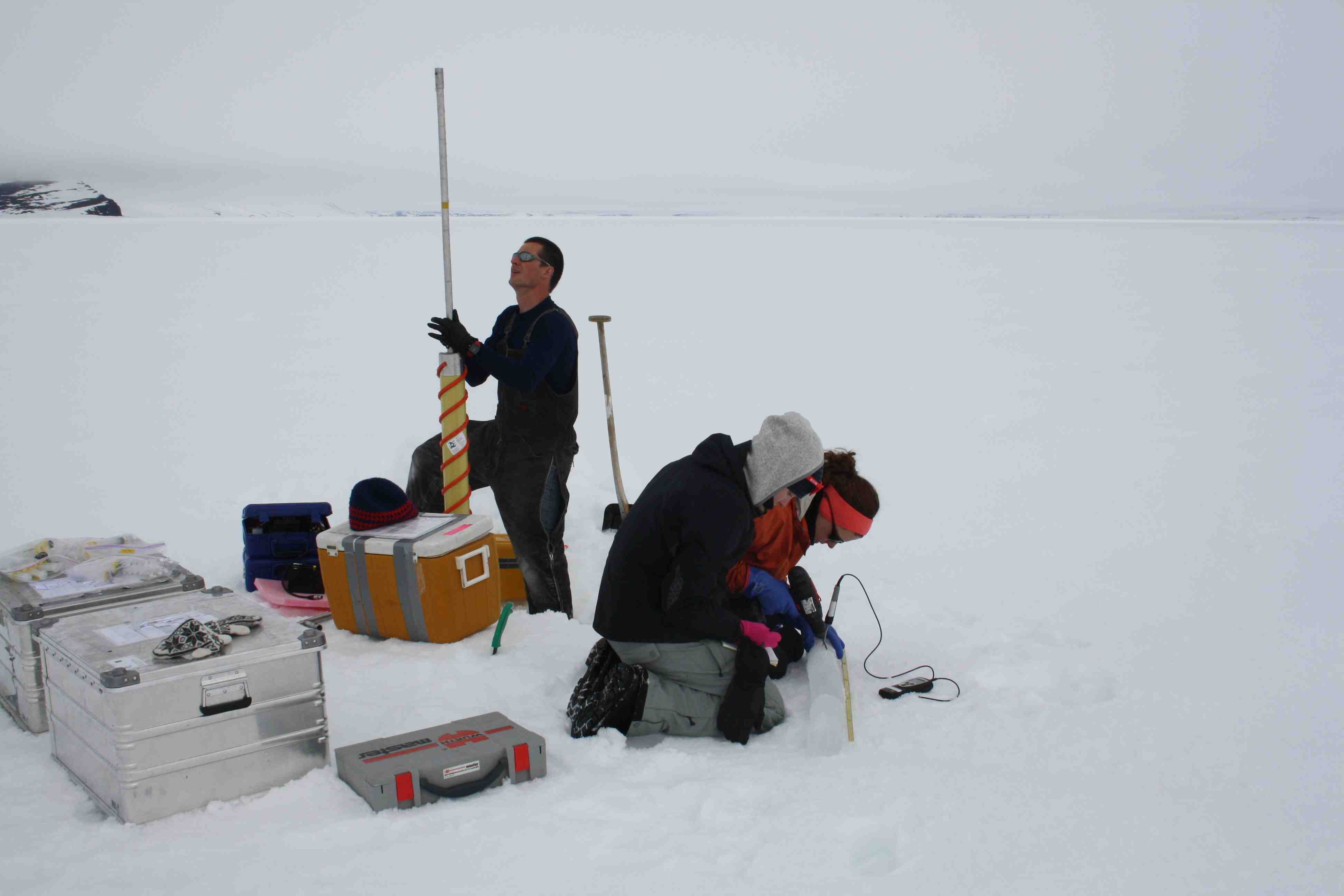 Ice sampling. Nicolas-Xavier Geilfus with the ice corer.  Alexis Burt and Kerri Warner taking temperature readings from ice core. Credit: Bruno Delille
While the data collection is the main reason for going out in the field; it is the places you go, the people you meet, the moments you share and friendships that develop in such a short time make it a life changing experience.  You start as a group of strangers who have to live with each other in a tight living space for weeks at a time, and end with hugs, well wishes and emotional farewells by the time it is over.  You discuss ways in which your research can contribute to theirs and vice versa.  These 10 strangers have developed not only collaborative research relationships, but also friendships.  We all share that "little bit crazy" quality that takes us away from home for long periods of time to work and to research things that we are all so passionate about.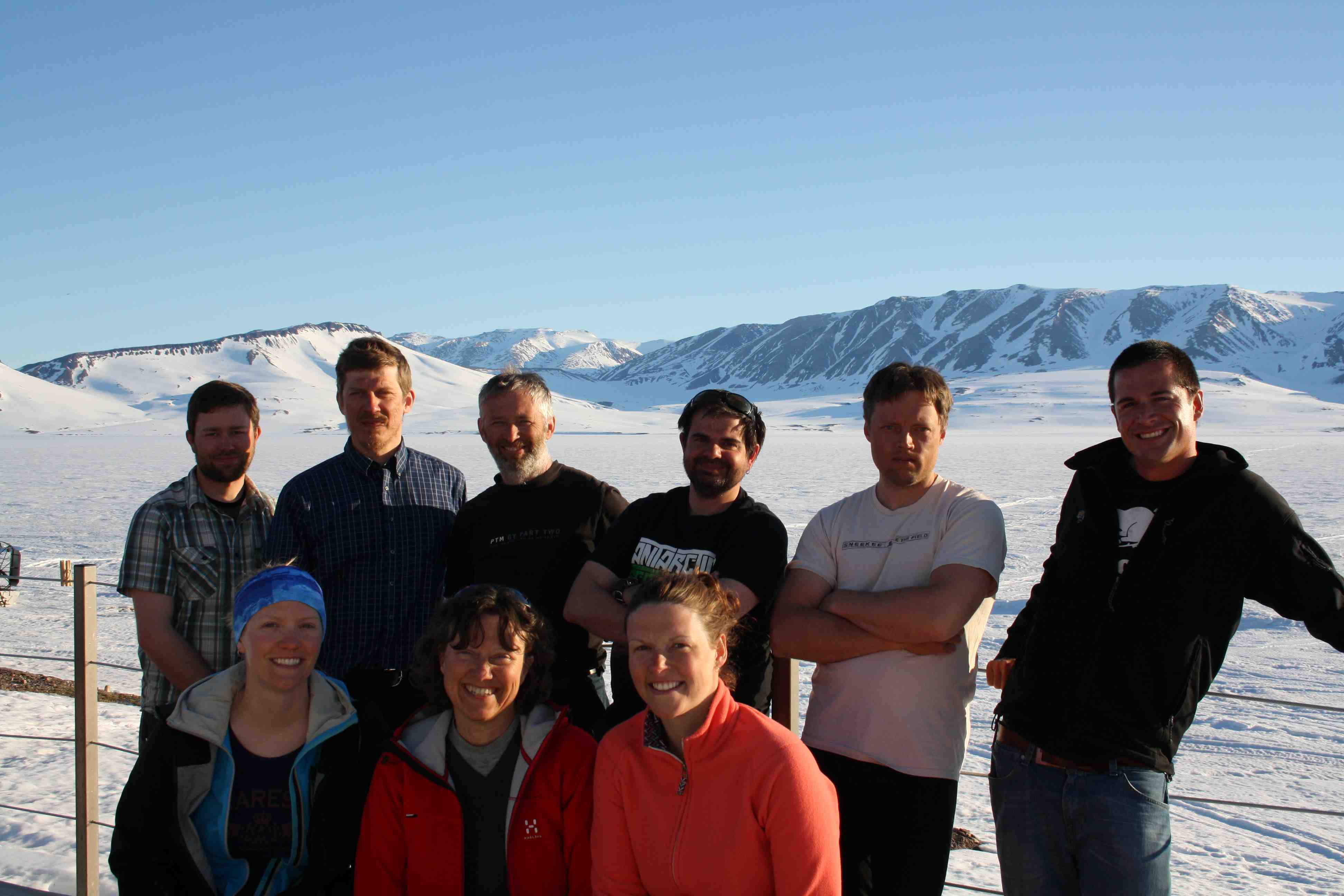 Group photo Leg 2: Top L-R: Geoff Gunn (CEOS), Vlad Petrusevich (CEOS), Egon Frandsen (ARC), Bruno Delille (ULG), Sergey Kirillov (CEOS), Nicolas-Xavier Geilfus (ARC). Bottom L-R: Alexis Burt (CEOS), Lise Lotte Sørensen (ARC), Kerri Warner (CEOS). 
If you would like to learn more about my work visit: 
Warner, K., Iacozza, J., Scharien, R. K., and D. G. Barber. 2013. On the Classification of melt season First-Year and Multiyear Sea Ice in the Beaufort Sea Using Radarsat-2 Data. International Journal of Remote Sensing. Vol 34. No 11. PP 3760-3774. DOI: 10.1080/01431161.2012.760855.  
Submitted by: Kerri Warner, Research Associate (CEOS, University of Manitoba)